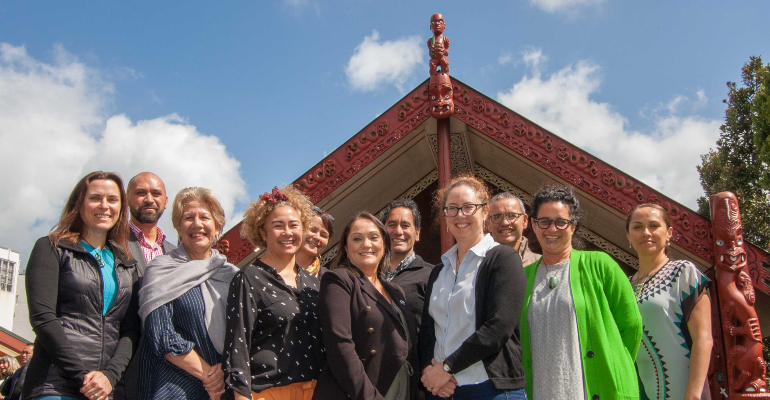 The eleven National Science Challenges and Ngā Pae o te Māramatanga recently collaborated to produce a Guide to supplement Vision Mātauranga.
The Vision Mātauranga is a 2005 policy to unlock the innovation potential of Māori knowledge, resources, and people in New Zealand's science system. The new guide, entitled A Guide to Vision Mātauranga – Lessons from Māori Voices in the New Zealand Science Sector, aims to provide a roadmap for fair and equitable outcomes in the science and research sectors.
The Guide to Vision Mātauranga was developed by the Rauika Māngai – Māori Directors and Vision Mātauranga specialists spanning the 11 National Science Challenges. At two wānanga in late 2019, participants discussed what was working well and what needed to change so that Māōri researchers could succeed in science, technology, engineering and mathematics. This was the first time in over a decade that over 100 Māori researchers and leaders were able to meet for a robust discussion on Vision Mātauranga.
Each wānanga had dedicated time for Māori researchers, plus open fora attended by non-Māori researchers and University leaders, and Ministry of Business and Innovation leaders and staff. These wānanga were supported by the Prime Minister's Chief Science Advisor, Professor Juliet Gerrard (who also attended the second wānanga), and culminated in a meeting with the Honorable Dr Megan Woods.
Ageing Well Director, Associate Professor Louise Parr-Brownlie (Ngāti Maniapoto me Te Arawa), was a member of the Rauika Māngai and contributed to document.
"It was wonderful to be part of the discussions and to pave a way forward for the science and research community," Associate Professor Parr-Brownlie said.
"My hope is that by instituting the Guide to Vision Mātauranga, we will ensure that New Zealand's research, science and innovation sectors reach their full potential, with equitable outcomes for all New Zealanders," she said.
The Guide to Vision Mātauranga has 3 parts.
Development of Vision Mātauranga Leadership:
Exemplars of past and current visionary mātauranga Māori leadership across the science sector are shared to show what can be achieved.

Bringing Vision Mātauranga to Life:
Characteristics that define successful implementation of the Vision Mātauranga policy are imparted.

Empowering the Future:
How to pivot from Vision Mātauranga compliance to strategic opportunities is shared to pave the way forward for greater outcomes and impact for research institutions, stakeholders, Māori researchers and Māori communities.
Read A Guide to Vision Mātauranga – Lessons from Māori Voices in the New Zealand Science Sector here.
###