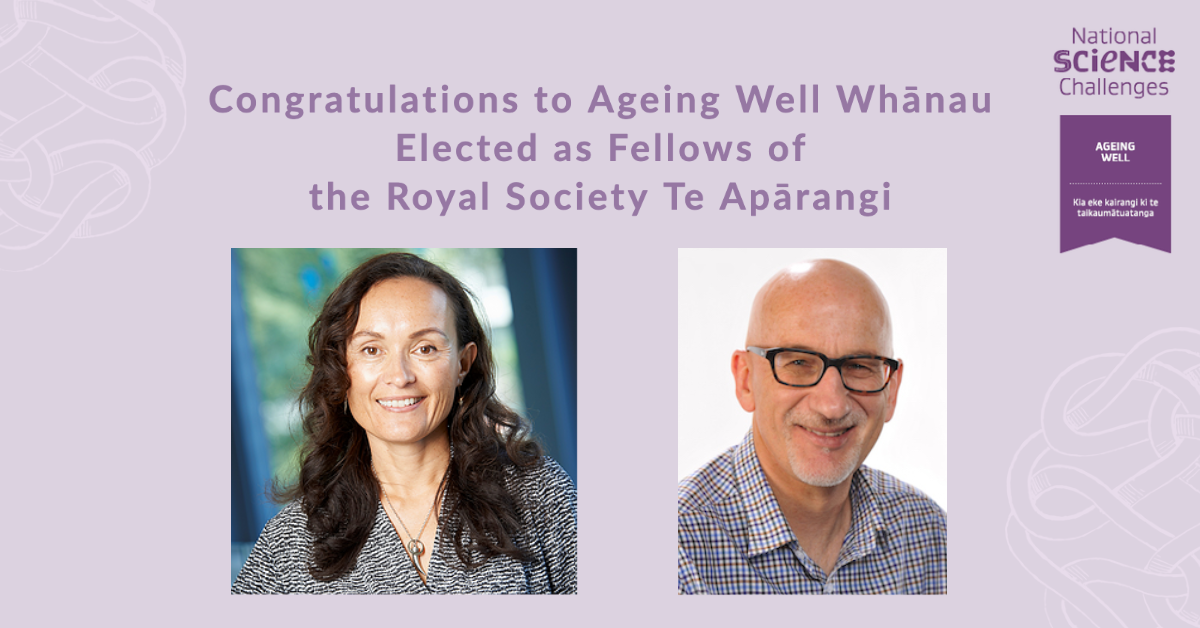 Ageing Well is proud to recognise two of our whānau who have recently been elected Fellows of the Academy of the Royal Society Te Apārangi. They are part of a cohort of twenty-three new Fellows who are world leaders in their area of expertise.
Professor Tahu Kukutai was honoured for her work in Māori demography and Indigenous data sovereignty.  She was a former member of the Ageing Well directorate. Current Ageing Well researcher Professor Murray Thomson, who is a vital member of our AWESSoM research programme, was named a Fellow for his contribution to dental epidemiology and research.
This is an outstanding achievement that recognises distinction in research, scholarship, or the advancement of knowledge at the highest international standards.
The team at Ageing Well wishes to congratulate Professor Kukutai and Professor Thomson on this wonderful recognition of their mahi.

Bios from the Royal Society Te Apārangi
Professor Tahu Kukutai (Ngāti Maniapoto, Ngāti Tiipa, Te Aupōuri, Waikato), National Institute of Demographic and Economic Analysis, University of Waikato
Tahu Kukutai's research focuses on two distinct but complementary areas: Māori demography and Indigenous data sovereignty. She has undertaken a broad range of applied population research, from iwi projections and demographic profiling, to survey-based analysis of Māori identity and whānau structure. She has published widely on Māori demography and ethnic identity and is recognised internationally for her work on state practices of ethnic and racial classification and census taking.
The impact of her work is demonstrated by the uptake by iwi, Māori organisations (such as the Independent Māori Statutory Board) and government agencies (Ministry of Social Development, Te Puni Kōkiri, Superu, Treasury), as well as many advisory roles (such as Chief Science Advisor Forum, 2018 Census External Data Quality Panel, Iwi Chairs Forum).
Professor Murray Thomson, School of Dentistry, University of Otago
Murray Thomson is a researcher in dental epidemiology and health services who has made important and sustained contributions to knowledge in a number of fields over the last three decades. His work in the renowned Dunedin Study has enhanced understanding of oral health throughout life. He is an expert on the oral condition 'dry mouth' and has developed measures which are being widely used in clinical practice and research. He has also made important contributions to understanding of the oral health of the ageing population and of the effectiveness of dental care in improving the lives of children and their families.
Murray's national oral health survey work in Australasia has been internationally influential. He has also provided many years of service as an Editor-in-Chief for international scientific journals.
[Image Source: Professor Tahu Kukutai // Profesor Murray Thomson]