Ageing Well is pleased to announce it has funded a new study centred on Pacific brain health.
Partnering with the Tongan Health Society, an established Auckland-based integrated primary health care service in the community and led by Dr Ofa Dewes, Director of its newly incorporated Langimalie Research Centre, the research is designed to help understand the factors that impact the wellness and wellbeing of Pacific older adults, and assess the strengths that allow them to thrive.
The new study, entitled Pacific cultures: Building blocks for a socially-involved and co-created approach to brain health among older adults, aims to investigate how Pacific older adults engage with and participate in wellbeing service provision and social contexts, and how such participation impacts their wellbeing and later life.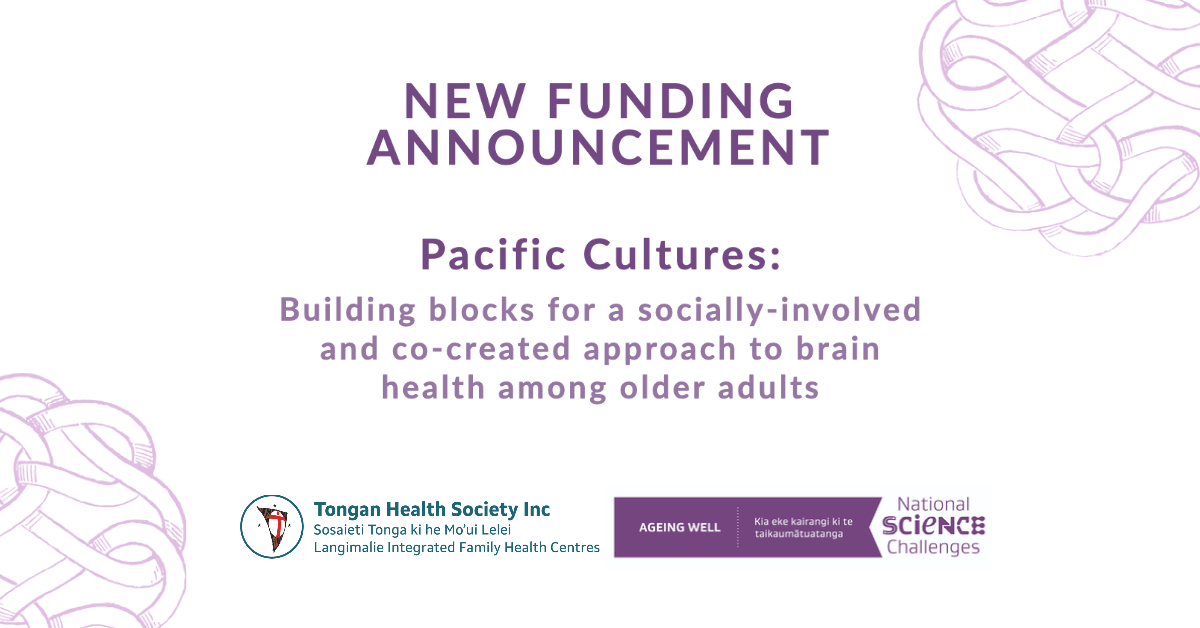 Co-Director of Ageing Well, Professor David Baxter, was encouraged by the opportunities a study such as this presents.
"Equity is a central tenet of Ageing Well, and we believe that this study provides an opportunity to address some key impacts of inequity that Pacific older people face in our health system," said Professor Baxter.

"This is an innovative study that will provide concrete data that will help provide focused services for the Pacific Community and add to science's understanding about the way Pacific people understand the brain," he said.
Principal Investigator Dr Dewes said of the project:
"It's a wonderful opportunity to partner with Ageing Well to be able to research Pacific brain health that will have a significant impact on the lives of so many people from our local communities."
Dr Glenn Doherty, Chief Executive and Medical Director of the Tongan Health Society Inc, is equally encouraged by the opportunities this research partnership brings.
"The Tongan Health Society has strong connections with diverse Pacific communities and our culturally-centred approach is designed to ensure the voices of older persons are heard, understood, respected, and actioned," he said.
About the study
Brain disorders have debilitating effects on one of our most vulnerable population groups – older adults. Pacific older adults, specifically, continue to live and work in environments that may, exponentially, create more harm than protect or maintain brain health. Many Pacific older adults continue to experience high levels of unmet needs and support, and poor access to ethnic-specific, people-centred, and culturally-appropriate services and resources across the entire social, health, and economic spectrum.
For most Pacific Peoples, brain health and the diagnosis of various common brain disorders such as dementia, stroke, Parkinson's disease, mental health, brain injury, and anxiety issues, are largely based on Western concepts not easily transferred into the holistic perspectives of wellness and wellbeing that are typical in a Pacific world view.
Brain health is a koloa (treasure) to nurture, develop and maintain throughout the life-course. Knowing what brain health support services would be appropriate for development and implementation into practice and policy, and knowing what cultural approaches would be appropriate for diverse Pacific communities, is important. The study will explore this in a culturally-centred, co-created, formative, and multi-disciplinary mixed-methods approach.
This project was developed in direct response to the Ageing Well mission of enabling positive ageing in an equitable manner. Additionally, it builds on the 'care, connection, and continuity' research platform established in Dr Dewes' previous studies with Ageing Well Challenge, to address the question:
How can Pacific cultural building blocks be developed and applied for a socially-involved and co-created approach to wellness and wellbeing among Pacific adults aged 65 years and over?
Director of Ageing Well, Associate Professor Louise Parr-Brownlie, was buoyed about the opportunity to collaborate on a research project that had the opportunity to make a significant impact on the lives of many Pacific peoples.
"We are so pleased to collaborate with a diverse and strong collective that has a track record of doing good boots-on-the-ground work with the Pacific community," said Associate Professor Parr-Brownlie.
"We believe this research will make a difference in the lives of Pacific older people and their families," she added.
###