With more than 430,000 carers in Aotearoa New Zealand, many people find themselves in this position unexpectedly. Yet the experience of caring is not the same for everyone.
For younger carers (aged 15-24), very little is known about their experiences. Dr Ofa Dewes, Principal Investigator and research fellow at the University of Auckland, understood that Pacific people represent 7% of Aotearoa New Zealand's carer population with a younger average age than the general carer population and was prompted to pursue this further.
In the Phase 1 project, Tāpinga 'a Maama: Pacific Life and Death in Advanced Age, caring for older adults at end of life, the emergent theme that stood out was that of intergenerational family caring. From this, Ageing Well funded the Phase 2 study, Building connections as we age: from younger carers to societies, as an opportunity to better understand the needs of younger Pacific family carers, and how to make visible the valuable contributions of 'invisible' carers to society.
The following table presents the percentage of Pacific Peoples providing unpaid care to a household member with a disability or illness, as reported in the 2013 Census.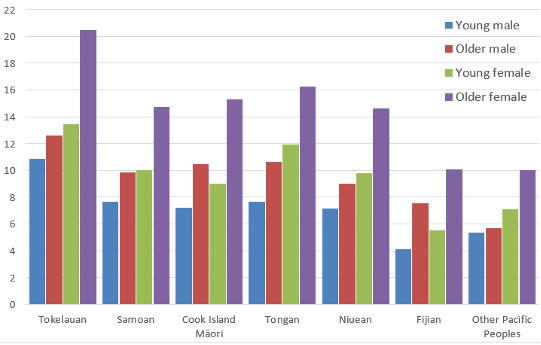 The Ministry for Social Development Carers' Strategy Action Plan 2019-2023 identified an urgent need for information regarding younger Pacific carers' experiences and the current provision of support and services for them. Such information is crucial to ensure that services and social supports meet the needs of the carers and their families.
The Building Connections study responds directly to the Action Plan to give voice and visibility to an invisible workforce in Pacific families and communities. It also seeks to deliver equitable health and wellbeing outcomes that impact education, employment, social support and health services, as well as culturally-centred Pacific approaches to support ageing well in place for younger family carers and the older adults they help to care for at home.