Over one hundred academics, researchers, policymakers and stakeholders gathered in Dunedin this month to discuss, debate and learn about meaningful research impact. Realising the Potential, a conference organised jointly by Ageing Well, CHARR, and CARE, explored how best to reap the rewards of scientific research so that it yields profitiable results for our end users.
Held at the Dunedin Public Art Gallery from 21-22 November, the conference examined impact from many angles. International keynote speakers described best practice; academics and stakeholders illustrated successful models of collaboration and community engagement; and interactive workshops offered attendees the chance to think about achieving impact, whether that be through the commercialisation of research, influencing policy change, or delivering new health care into our communities. The final session of the conference, a panel discussion between the three health-related National Science Challenges (Ageing Well, A Better Start, and Healthier Lives), looked at how researchers are proactively engaging with Māori communities.
Overall, the Research Impact Conference was a wonderful event that allowed everyone involved in, and who uses and benefits from, research to go away with a better understanding of how to realise the potential of research so that it be put to work to measurably and meaningfully improve New Zealand. (We will bring our readers a more detailed summary of the conference on our website and in a later Newsletter.)
21-22 November 2017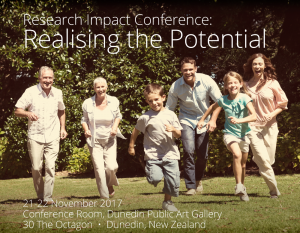 Conference Room | Dunedin Public Art Gallery | 30 The Octagon | Dunedin
Who will benefit from attending?
Those working in NGOs, research funding organisations, not-for-profits, the health
and technology industry, programme management and evaluation, knowledge translation, government research and development, academia, and research institutes.
What can participants hope to gain?
Increased knowledge and skills on how to design, plan, manage, measure, communicate and optimise research impact. The focus will be on biomedical and health sciences.
Participants will improve their understanding of some existing frameworks, tools, approaches, and knowledge about research impact and its assessment with leading international experts.
There will be an opportunity to hear examples and share experiences for establishing collaborations between stakeholders, researchers, community service and health providers, and policy makers.
This interactive conference offers an opportunity to network and exchange ideas and best practices with international experts, peers, stakeholders, and end-users of health research.
More information: www.researchimpact.org.nz
Email: research.impact@otago.ac.nz
Poster: Research Impact Conference