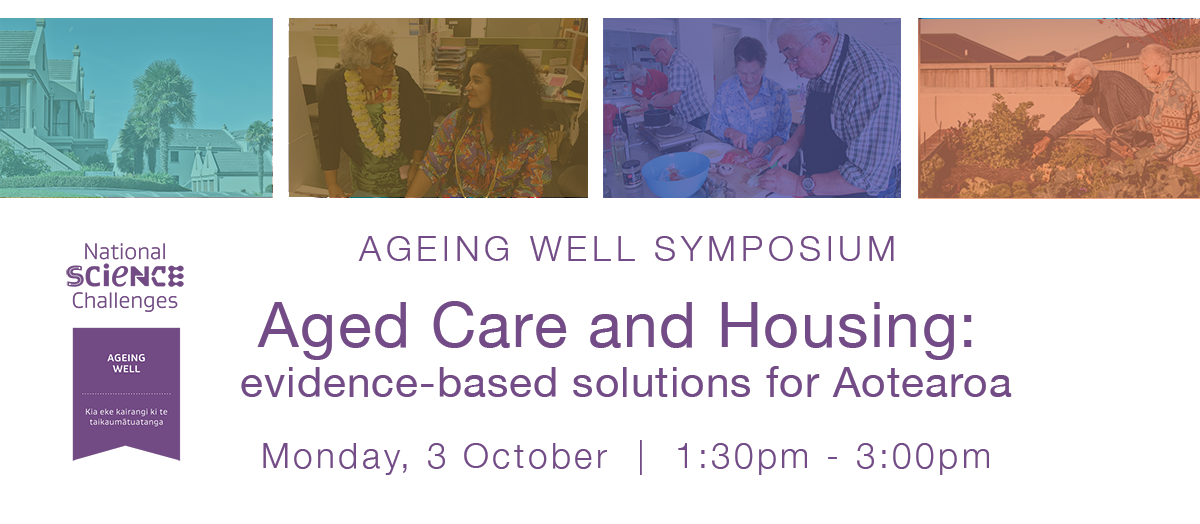 You are cordially invited to attend the Ageing Well Symposium 2022.
The event will be held virtually by Zoom on Monday afternoon, 3 October, from 1:30pm – 3:00pm.
This free public event, 'Aged Care and Housing: evidence-based solutions for Aotearoa', will feature Ageing Well researchers and experts in this area.
About the Symposium
Aotearoa's population of people aged 65 and over is set to increase from 735,000 people (2018) to almost 1,375,000 in 2043. That means in less than a generation from now, the number of older people is set to almost double. Are we, as a nation, ready for that?
The symposium will explore the issues facing older people in terms of housing and aged care, but also positive solutions that will enable Aotearoa to meet the challenge of the rising needs of an ageing population.
Expert speakers at the event include:
Carolyn Cooper (NZ Aged Care Commissioner) – "Age Care Services in your home or a care home: challenges and opportunities for the future"

Dr Kay Saville-Smith MNZM (Chief Science Advisor, Ministry of Housing and Urban Development | Director, CRESA) – "Seniors, their agency and choices in a world of financialised housing: challenges and solutions"

Rangimahora Reddy (CEO, Rauawaawa Kaumātua Charitable Trust) – "Kaumātua Housing" (TBC).

Dr Michal Boyd (Honorary Associate Professor, School of Nursing, University of Auckland) –
"Caring for Frail Older People across the continuum: what we are getting right and what could we do better"
Please note: Once you have submitted your registration, please look out for a Zoom link for the event that will be emailed to you. From this email, you will be able to add the event to your calendar. We will also be sending out reminders closer to the event with further information.
We look forward to having you join us for this timely and positively-focused discussion about housing and aged care for older people.