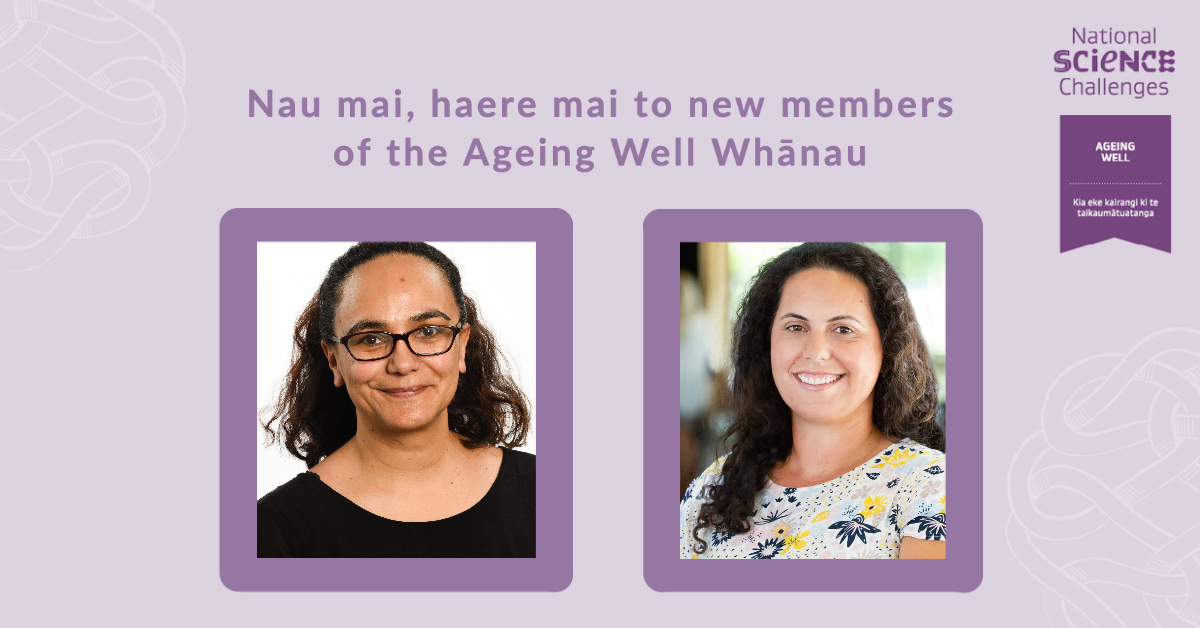 Ageing Well welcomes two new appointees
The team at Ageing Well says nau mai, haere mai to two wāhine Māori appointed to roles within our organisation: Associate Professor Diane Ruwhiu as Deputy Director, and new appointment to the Strategic Advisory Group, Dr Joanna Hikaka.
Associate Professor Ruwhiu (Ngāpuhi) is a lecturer in the Department of Management at the University of Otago Business School and the Deputy Dean of the Graduate Research School. Her research focuses on issues of relevance for Māori development (in particular, the Māori economy and business), contributing to the increasingly prominent field of indigenous studies in management and organisation, building Māori business capability, and indigenising management education.
Ageing Well Director Associate Professor Louise Parr-Brownlie is excited by the opportunity to add a courageous leader who is guided by integrity and empathy, and whose diverse professional knowledge will add a wealth of complementary experience to the team.
"We are so pleased to have someone on board like Associate Professor Ruwhiu. She brings strategic and management knowledge as well as significant experience in researching the ageing workforce and utilising a kaupapa Māori framework in research," said Associate Professor Parr-Brownlie.
"I feel her complementary skills and expertise will be a great fit and we are pleased to welcome her into the Ageing Well whānau," she said.
Associate Professor Ruwhiu was pleased to join a future-focused organisation that is committed to making a difference in the lives of all New Zealanders.
"I am excited to work with an organisation like Ageing Well that is wholly committed to making change for all New Zealanders, and one that places emphasis on equity to ensure no one is left behind," said Associate Professor Ruwhiu.
Ageing Well researcher Dr Joanna Hikaka (Ngāruahine) has been appointed to the Strategic Advisory Group (SAG), a collective of industry leaders that helps guide the future direction of our organisation in decisive and pivotal ways.
Dr Hikaka brings strategic experience to the table, in addition to her expertise as a practicing pharmacist and kaupapa Māori researcher.
"It is wonderful to have Dr Hikaka joining our Stategic Advisory Group," said Associate Professor Parr-Brownlie.
"We look forward to having her perspective at the table as we make key decisions about the future of Ageing Well."
Ageing Well is pleased to welcome these wāhine Māori who are outstanding leaders in their research fields and excellent strategic thinkers. They are and will continue to be leaders within the ageing research sector, and Ageing Well is pleased to support Māori leaders to gain further experience and insights. We are proud of the legacy we are building and we are privileged to whakamana their careers.