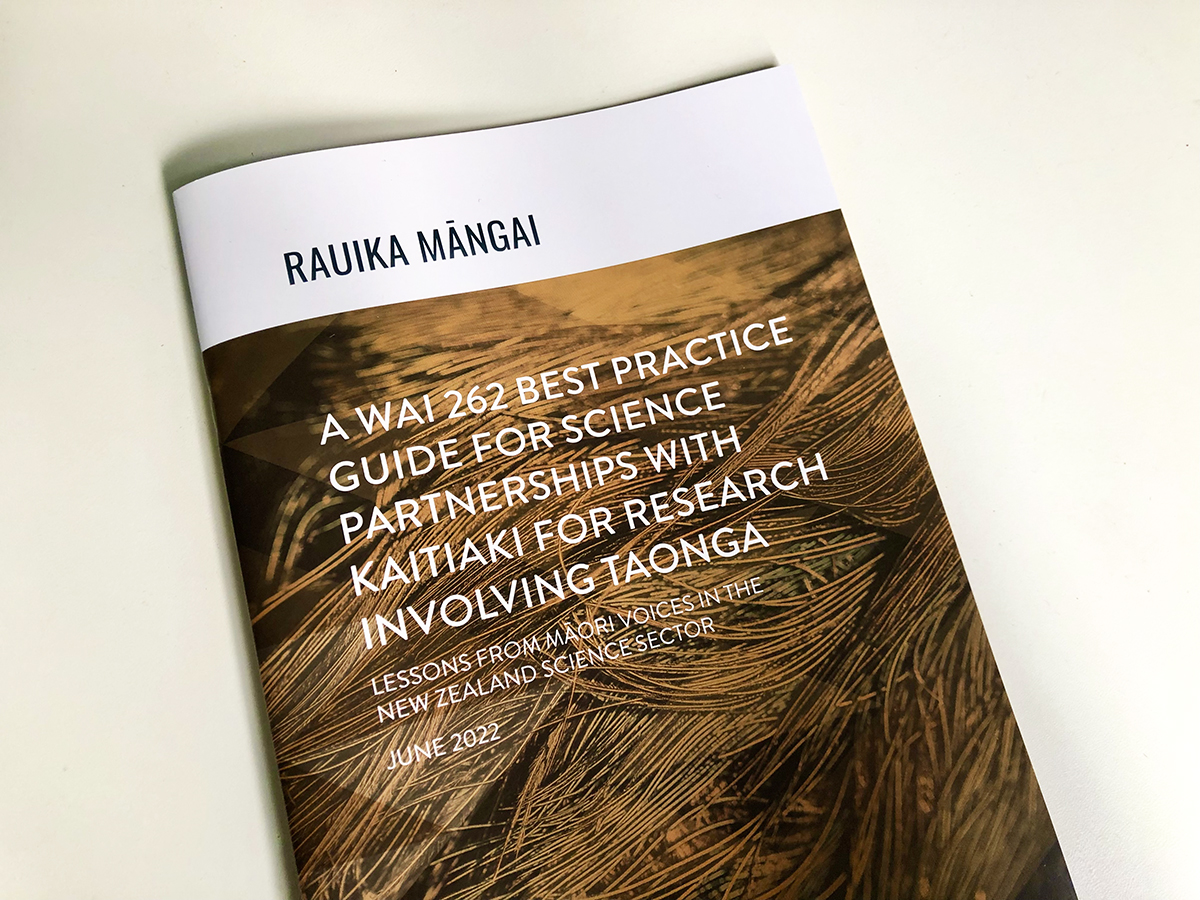 The Rauika Māngai recently released the Wai 262 Best Practice Guide, a baseline for how scientists and researchers in Aotearoa can best work with Māori communities.
In mid 2021, the Rauika Māngai hosted two webinars on the Wai 262 claim. These webinars discussed the history and impacts of Wai 262, as well as the unique opportunities for National Science Challenges to advance the thinking, policy, capability and behaviours within Aotearoa's science system.
From this kōrero, the Wai 262 Guide was developed to shepherd best practice in the ever-changing science and research sector and to assist scientists in improving their research when working with taonga.
As the sector is undergoing a systematic review with Te Ara Paerangi Future Pathways and as organisations (such as Ageing Well) strive to be better Tiriti partners, it is a pivotal time to voice what needs to be changed from a collective Māori standpoint.
As Dr Jessica Hutchings, former Chair of the Rauika Māngai and convenor of the Wai 262 Webinar Series, wrote in the foreward:
"For many scientists and researchers trained in the Western academy, it can be a challenge to navigate through these waters – especially when academic systems and training, based on Western forms of knowledge construction, reward individual achievement over and above collective benefit sharing.
"There is continual unlearning and decolonising that those of us trained in the Western academy must pursue. We hope this guide is a helpful resource on this journey."
Potential for positive impact
Current Chair of the Rauika Māngai and Director of Ageing Well, Associate Professor Louise Parr-Brownlie, is hopeful for the potential for positive impact that this report has on the science and research sector.
"The focus of this report is in building relationships – strong, robust relationships with Māori communities and with researchers. It encourages scientists to learn a different knowledge system to empower Māori as kaitiaki and be active agents of change," said Associate Professor Parr-Brownlie.
"The best practice principles contained within the guide are written in an accessible and easily understood way. We want to make it easier to understand the Wai 262 claim and its context, but also provide a helpful guide for scientists and researchers to enact change in our work.
"I am proud of the mahi achieved by the Rauika Māngai in collaboration with Te Taumata Whakapūmau, whānau and iwi representatives of the original claimants, to make active change in our sector and beyond," she said.
Ageing Well wishes to thank all the past and current members of the Rauika Māngai for this vital mahi.
To read the report, please visit the Rauika Māngai resources page.